As the Vietnam Patent firm recommended by Legal500 and WTR, ASL LAW always ensure the qualified service of Vietnamese translation of patents for clients with a very affordable fee.
What languages we could translate into Vietnamese?
We could help client to translate patent's specification from the following languages to Vietnamese:
+ English
+ Korean
+ Chinese
+ Japanese
We could also help translate English specification from to the following languages:
+ Laos
+ Khmer
What sectors of patent which ASL LAW could translate?
We are having:
– Specialized patent attorneys in different technical fields.
– Advanced technology to monitor patent's portfolio.
Therefore, our patent attorneys could provide the translation of patent for the following sectors:
+ Chemical
+ Pharmaceutical
+ Mechanical & Engineering
Is our translation rate of patent's specification competitive?
Under the effect of COVID, we are trying to help our clients save their budget by improving our translation service through the technical support. Therefore, we could provide the most affordable rate of translations of patent specification into different languages.

We also have a special offer of translation rate for patent translations company who we agree to partnership. You could contact us for this special quotation if you meet our requirement of partnership.
What is our translation process?
+ Step 1: patent's specification is translated by a specialised translator;
+ Step 2: the translation is reviewed by a patent attorney in the respective sector;
+ Step 3: the translation is finally checked and approved by the team leader of the patent department;
+ Step 4: the translation is provided to our client for their comments/review if required
What international law firm ranking organisations talking about us?
+ Legal500 (2021): At ASL Law Firm, practice head and 'star lawyer' Pham Duy Khuong has over ten years of experience in IP prosecution matters. The team handles the full range of services including trade mark enforcement, international trade mark prosecution, and registration for clients operating in the real estate and consumer products sector. The group has a cross-border practice and has alliances established across other ASEAN jurisdictions including Laos, Cambodia, and Myanmar.
+ Legal 500 (2020): Pham Duy Khuong  who has experience in trademark prosecution and enforcement. As far as cross-border work is concerned, the firm has alliances with firms in other countries in Laos, Cambodia and Myanmar
+ Legal 500 (2019): Duy Khuong Pham list his emerging firm with absolute assuredness. He represents a colorful catalogue of Vietnamese Companies on trademark matters in Cambodia, Laos, Myanmar and Vietnam.
+ Legal 500 (2017): Pham Duy Khuong advises Vietnamese and international businesses on dealing with counterfeit and other infringements, as well as handling international registration and freedom to operate checks, among other works.
+ World Trademark Review (2020): Duy Khuong Pham is a consummate adviser on trademark prosecution and enforcement, as well as franchising; he plies his trade from ASL Law

What clients talk about ASL LAW – Vietnam Patent Firm?
The followings are client's comments about our services under Legal500's survey:
+ ASL LAW has different departments for each sector of patent, trademark and IPR enforcement which makes us comfortable to instruct them to handle various types of IP works for our clients. They follow the cases very carefully and give us the proper advice when there is error during the examination of our clients' cases. In addition, they are strong in conducting raid actions against counterfeit products for our clients.'
'Pham Duy Khuong is a well-known and a star lawyer in Vietnam. He is very patient to keep explaining to our clients' inquiries. His advice to our clients is clear, well-organised, thorough.'
+ 'We are impressed by lawyer Pham Duy Khuong, managing director of ASL LAW. He is an outstanding lawyer who is famous for his high determination in handling tough cases for clients. He always tries to give a specific solution for clients (not the general advice) so that clients know what is their best option in the current situation.'
+ 'ASL LAW is our very reliable legal partner in Vietnam. Our clients feel satisfied with their service and quality. Their team members are very good at English and communication since most people graduated from overseas. They are a fast response to our urgent inquiry and understandable to our client\'s difficulties and challenges. Normally, we selected ASL LAW to handle the very hard works which need high profile lawyers in charge.'
+ 'ASL LAW provides a very fast and responsible advice legal service in Vietnam. Thanks to their advice on our IP matters, we have successfully enforced our IP rights in Vietnam.'
+ 'ASL LAW is very famous in Vietnam for IP prosecution of trademark, patent in oversea. Fast response and very affordable fees. They know how to work with suitable foreign IP Firms based on the specific requirements of each case.'
+ 'Since 2019, I have had the pleasure of working with Pham Duy Khuong who has served as local counsel for our American client in the registration of its trademarks in Vietnam. Pham was selected based on his reputation and experience in trademark matters. I have found Pham to be knowledgeable,  highly responsive, and easy to communicate with. I would recommend Pham as a potential asset for any business.  '
+ 'Lawyer Pham Duy Khuong is an outstanding IP lawyer in Vietnam with experience of more than 16 years. He is well known for IP prosecution and enforcement and also his contribution to raising IP knowledge in Vietnam. He is a conscientious and clever lawyer.'
Where can we file patent in Vietnam?
The patent shall be filed at Vietnam National Office of Intellectual property (NOIP)
What is procedure of filing patent in Vietnam?
+ Step 1: Formality examination of patent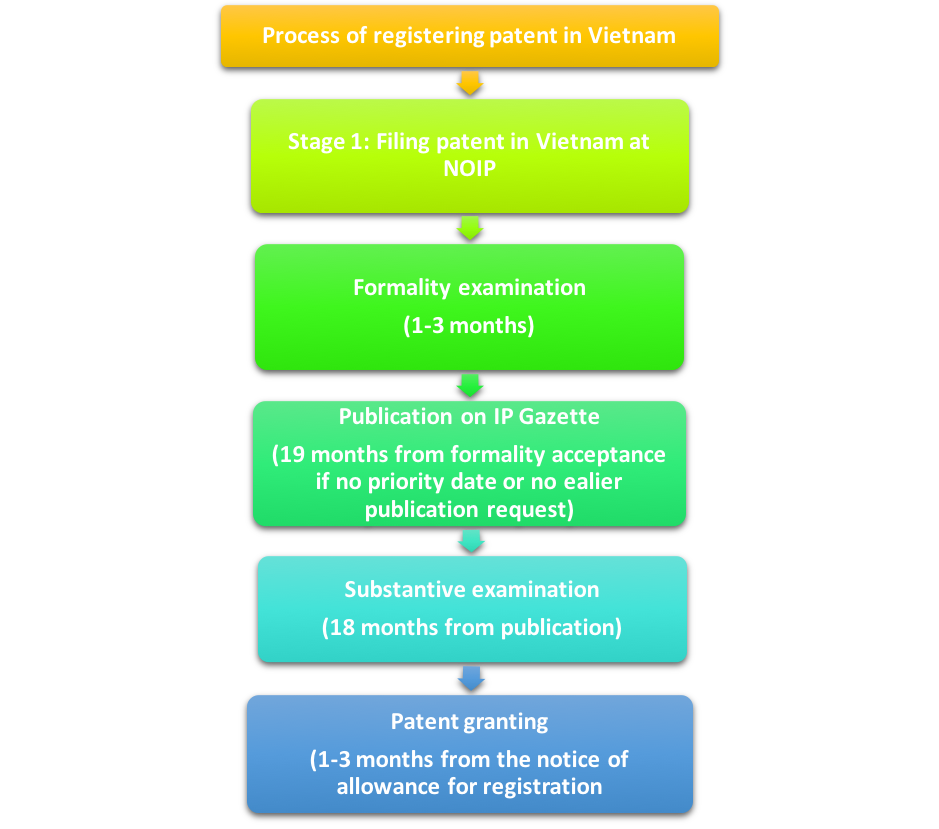 Process of registering patent in Vietnam – patent in Vietnam – PCT patent in Vietnam
National Office of Intellectual Property (NOIP) will examine the formality of the patent application within 1-2 months counted from the filing date. However, the actual time may be longer.
+ Step 2: Publication of patent on Vietnamese IP Gazette
NOIP shall publish the patent application on Vietnamese IP Gazette within 19 months counted from the first filing date or date of accepting its legitimate whatever comes later. The applicant could ask for earlier publication of their patent application.
+ Step 3: Substantive examination of patent
NOIP shall issue the substantive examination result 18 months from the publishing date. If the result is positive, the patent shall be granted within 1-2 months. Otherwise, patent applicant shall have three months (extensible for 3 months) to respond to the rejection.
+ Step 4: Granting Vietnam patent
Within 1-3 months from the notice of patent granting.
What is sample of patent certificate in Vietnam?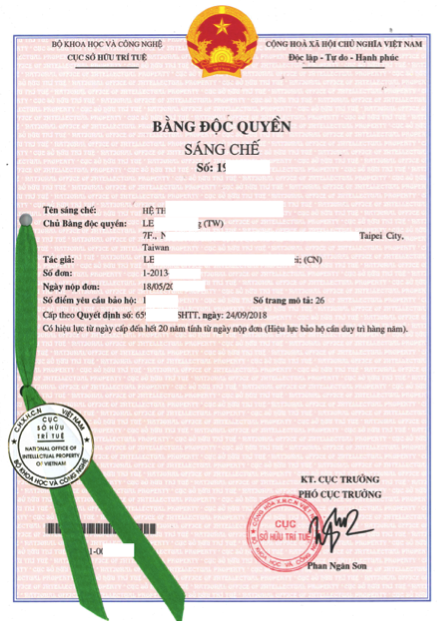 Patent in Vietnam – Vietnam Patent – PCT Patent in Vietnam – File Patent in Vietnam
Download the full Guide to file Patent In Vietnam here.
You could contact ASL LAW – Vietnam IP Law Firm – Vietnam IP Agent for further inquiry:
— Other related articles–
– What is procedure of patent in Vietnam?
– How can we pay annuity of patent in Vietnam?
– Sample of Patent in Vietnam?
– What is patent in Vietnam and what are subject matters protected as patent in Vietnam?
– Intellectual Property Services
– Vietnam IP Law Firm – Vietnam Patent Law Firm – Vietnam Trademark Law Firm