Legal 500 has just published a list of the leading IP law firms in Vietnam in 2021. ASL Law is in the TOP TIER IP Firm in Vietnam of this chart.
The Legal 500 is a globally reputed organization that evaluates and ranks law firms in member countries. Legal 500 surveyed more than 250,000 businesses and clients. Through the rating of The Legal 500, clients can decide partners which provides reputable legal services. In 2021 ranking result, ASL Law is ranked TOP TIER 2 in the field of IP in Vietnam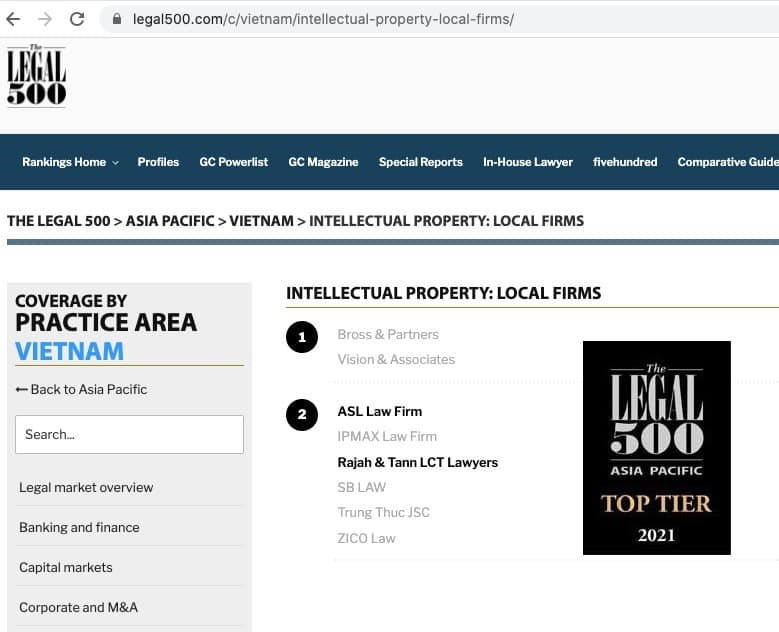 Under the guidance of Lawyer Pham Duy Khuong, this year, ASL Law was honored to be in the Top Tier 2 of leading IP law firms in Viet Nam published by The Legal 500. With prestigious, diversified cross-border legal services and dedicated lawyers, ASL has received positive feedback from customers.
Legal500: "At ASL Law Firm, practice head and 'star lawyer' Pham Duy Khuong has over ten years of experience in IP prosecution matters. The team handles the full range of services including trade mark enforcement, international trade mark prosecution, and registration for clients operating in the real estate and consumer products sector. The group has a cross-border practice and has alliances established across other ASEAN jurisdictions including Laos, Cambodia, and Myanmar."
"ASL LAW has different departments for each sector of patent, trademark and IPR enforcement which makes us comfortable to instruct them to handle various types of IP works for our clients. They follow the cases very carefully and give us the proper advice when there is error during the examination of our clients' cases. In addition, they are strong in conducting raid actions against counterfeit products for our clients".
"Pham Duy Khuong is a well-known and a star lawyer in Vietnam. He is very patient to keep explaining to our clients' inquiries. His advice to our clients is clear, well-organised, thorough"
"We are impressed by lawyer Pham Duy Khuong, managing director of ASL LAW. He is an outstanding lawyer who is famous for his high determination in handling tough cases for clients. He always tries to give a specific solution for clients (not the general advice) so that clients know what is their best option in the current situation".
(According to The Legal 500)
Being ranked Top 2 by The Legal 500 has shown the relentless efforts of lawyers and legal experts of ASL Law. They have improved their service quality, provided quick legal advice, and tailored to each type of customer, not only in Viet Nam but also in international markets. This is an honor and also a huge challenge for ASL Law in international development in the future.

To have these achievements today, ASL Law would like to give a sincere thanks to the appreciation of our customers. ASL Law will continue to improve the quality of services for customers from different countries around the world.
ASL LAW is M&A law firm in Vietnam. If you need any inquiry, please contact us.