ASL LAW: A RECOMMENDED FULL SERVICE LAW FIRM IN HANOI
Hanoi is the capital of Vietnam and among the largest economic cities in the country. Investment into Hanoi from the local investors and foreign ones is increasing. During the process of doing business, trading or civil transaction in Hanoi, it is necessary to work with a law firm in Hanoi. ASL LAW is recommended and ranked law firm in Hanoi and could provide full legal services to clients.
WHO IS OUR MANAGING PARTNER IN CHARGE FOR HANOI LAW FIRM?
ASL Law Firm in Hanoi is led by by LLM Pham Duy Khuong, our managing partner and founder. Lawyer Pham Duy Khuong is ranked as the leading lawyer in Vietnam by ASIA LAW, Legal500 from for consecutive years from 2012. Owning to his contribution to legal field in Vietnam, Lawyer Pham was awarded by Australian Government, US Government and Japan (his detailed profile here).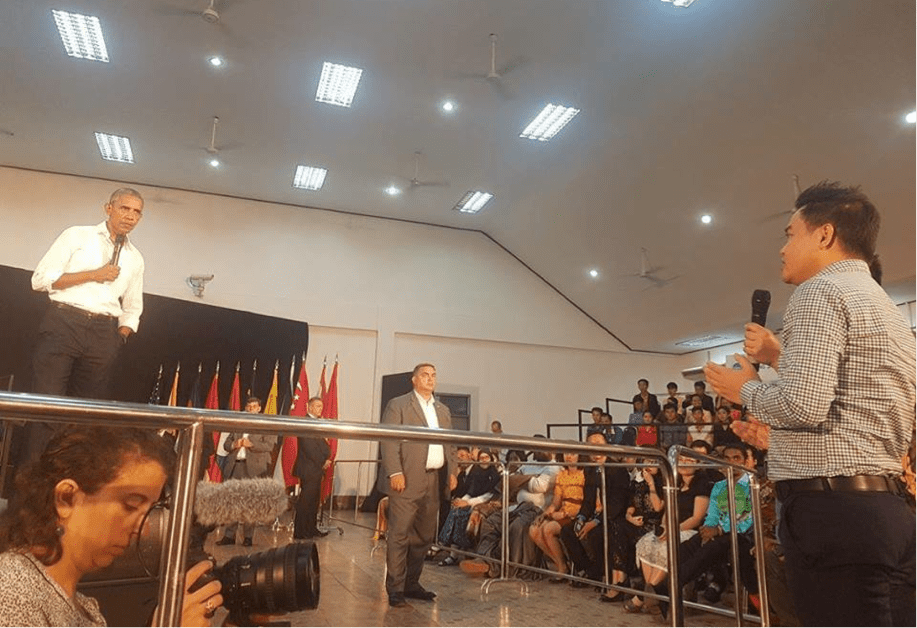 Mr. Pham Duy Khuong in a dialogue with USA's president Barack Obama about TPP
WHO ARE OUR CLIENTS?
+ Clients doing business in Hanoi or surrounding areas.
+ Clients desiring doing business oversea as in Singapore, China, Laos, Cambodia, Myanmar, Hong Kong, USA, Australia, Indonesia, Taiwan, EU and other countries where Vietnamese enterprises prefer doing business there.
WHY ASL LAW? 
ASL LAW is established to help the clients:
Shorten the time of finding the right, experienced lawyers for clients.
Immediately connect Vietnamese enterprises with our selected foreign lawyers when they do business abroad.
ONE inquiry from clients receive TWO independent advices from our two lawyers, if required. Clients do not need to shop around. Our two lawyers shall independently send the clients their separate legal proposal. Then, after receiving the advices, the clients shall select their suitable lawyer.
Save our clients budgets due to our strong constraints between our lawyers.
Provide full legal services to clients.
Create bridge between clients and successful lawyers.
Act like in-house lawyers for enterprises
Receive free search of law database account for registered users
WHAT SERVICES DO ASL LAW FIRM PROVIDE?
As a full-service law firm in Hanoi, ASL Law could provide all in one legal services to our clients, including: Corporate Law
Corporate Law
Marriage & Family Law
Administrative Law
Social Security Law
Criminal Law
Arbitrator
Mediator
Ship Arrest
Bar Code Registration
Aircraft Leasing Contract
Opening Tourism Company
Immigration
Work Permit
Criminal Record
Visa For Foreigner
Announcement Of Cosmetics
Announcement Of Foods
Medicine VISA
WHAT MEDIA TALKING ABOUT ASL LAW – A RECOMMENDED VIETNAM LAW FIRM?
– Vietnam Investment Review: ASL Law Legal superconductor for businesses
"ASL LAW's success proves that there are more than a few Vietnamese law firms that are strong enough to cover complicated multinational legal cases. This also harangues the end of the times when Vietnamese law firms were sidekicks to more established international counterparts due to foreign language limitation, lack of standard legal drafting skills, lack of knowledge about international legal systems, or limited connectivity."
– ASIA LAW Network: Lawyer Feature: Pham Duy Khuong of ASL LAW, Vietnam Law Firm.
"Pham Duy Khuong is the Managing Partner of ASL Law, a Vietnam law firm that has expertise in regional business transactions. He has been recognised as one of the top lawyers in Vietnam, and has also been awarded with fellowships and scholarships by the Australian, Japanese, and US governments."