ABOUT ASL LAW – VIETNAM LAW FIRM
ASL Law, a full-service Vietnam law firm, includes

A

ssociates of

S

uccessful

L

awyers from Vietnam and other countries where Vietnamese enterprises have trading relationship. Our main purpose is to provide the most practical, efficient and lawful advice or legal services to clients.
WHO ARE ASL LAW'S CLIENTS?
Our clients include:
Both local and foreign enterprises doing business in Vietnam;
Vietnamese Clients doing business oversea
WHO IS MANAGING PARTNER AND FOUNDER OF ASL LAW?
ASL Law Firm was established by LLM Lawyer Pham Duy Khuong, our managing partner and founder. Lawyer Pham Duy Khuong is ranked as the leading lawyer in Vietnam by ASIA LAW, Legal500 from for consecutive years from 2012. Owning to his contribution to legal field in Vietnam, Lawyer Pham was awarded by Australian Government, US Government and Japan.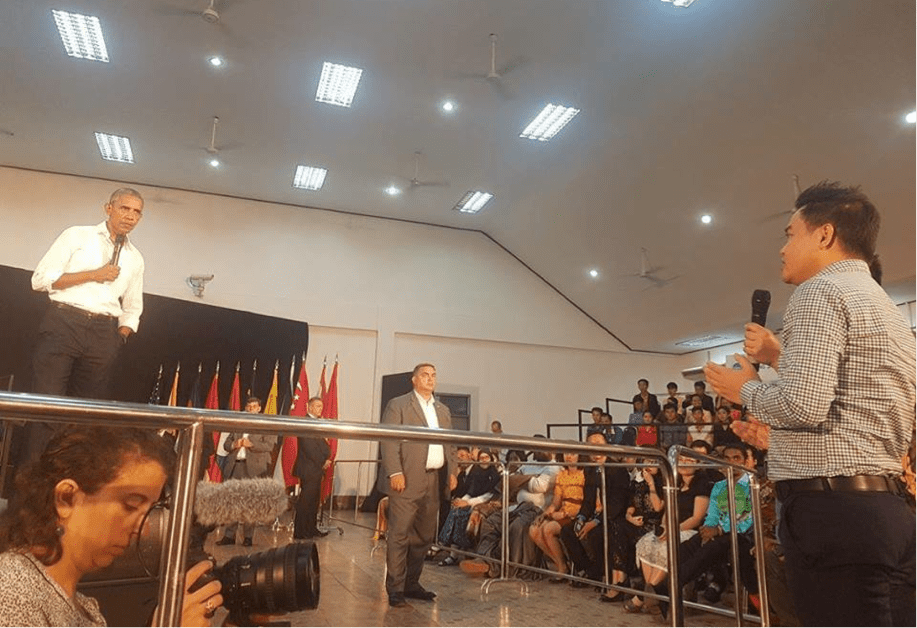 Mr. Pham Duy Khuong in a dialogue with USA's president Barack Obama about TPP
WHAT FEATURES ASL LAW FIRM?
Vietnam is becoming a rising star in ASEAN countries in terms of economic development. Thanks to the development, we have seen two dominant investment streams in the jurisdiction: foreign investors significantly invest into Vietnamese market while Vietnamese enterprises start their investment or business oversea.
When working with our clients from both investment streams, we recognise their following legal concerns:
1). Who/what are Vietnamese lawyers or Vietnam law firms they should contact to get the prompt, reliable and cost-effective solution?
2). Are the Vietnamese lawyers or Vietnam law firms qualified?
3). How startup companies have their own in-house lawyers by using retainer services?
4). Do they have enough budget to spend on the legal matter?
5). Could they receive a full legal service (all in one legal service) from such Vietnam law firm?
All the aforementioned matters shall be handled by ASL Law Firm, a full business Vietnam law firm. The following features make ASL Law Firm become the most recommended Vietnam law firm for enterprises:
Shortening the time of finding the right, experienced lawyers for clients.
Immediately connecting Vietnamese enterprises with our selected foreign lawyers when they do business abroad.
ONE inquiry from clients receive TWO independent advices from our two lawyers, if required. Clients do not need to shop around. Our two lawyers shall independently send the clients their separate legal proposal. Then, after receiving the advices, the clients shall select their suitable lawyer.
Saving our clients budgets due to our strong constraints between our lawyers.
Providing full legal services to clients
Creating bridge between clients and successful lawyers
Acting like in-house lawyers for enterprises
Receiving free search of law database account for registered users
At least two experienced and senior lawyers in each legal field provided by ASL Law firm.
WHAT SERVICES DO ASL LAW PROVIDE?
It is proud that ASL Law Firm has successfully gathered the leading lawyers and legal experts in comprehensive legal fields. Therefore, ASL Law Firm could provide all in one legal services to our clients. Our legal services include:
Corporate Law
Corporate services
Oversea Investment for Vietnamese Enterprises 

Vietnam Law Firm – Law Firm in Vietnam – Vietnam Business Law Firm for Doing Business in Vietnam and oversea investment

Marriage & Family Law
Administrative Law
Social Security Law
Criminal Law
Arbitrator
Mediator
Ship Arrest
Bar Code Registration
Aircraft Leasing Contract
Opening Tourism Company
Immigration
Work Permit
Criminal Record
Visa For Foreigner
Announcement Of Cosmetics
Announcement Of Foods
Medicine VISA
ASL LAW ADVISES LEGAL ISSUES IN VIETNAM AND OTHER COUNTRIES
The reasons why ASL LAW can guarantee such a thing is its team of experienced lawyers from Vietnam and many countries where Vietnamese businesses are active, such as Australia, Malaysia, Singapore, China, Cambodia, Laos, Myanmar, Japan, South Korea, the US, and Canada. They are all experienced lawyers in the fields affecting the operation of most businesses, such as anti-dumping, mergers and acquisitions, real estate, finance, banking, foreign investment, arbitration, and intellectual property. Many foreign businesses who come to Vietnam as well as Vietnamese enterprises investing and doing business abroad are often confused about on-site legal issues. This is especially true for startups or those without their own legal department. ASL LAW's mission is to support these businesses to operate in accordance with the applicable laws, to avoid risks, and minimise damage.
In particular, as a member of the International Bar Association (IBA) as well as having relations with investors from many economic powers such as Singapore, Malaysia, China, Japan, South Korea, Australia, and the US, ASL LAW also brings quality investors to do business in Vietnam – and helps Vietnamese businesses expand abroad.
WHO AND WHERE ARE ASL LAW'S LAWYERS LOCATED?
Each legal field provided by ASL Law Firm is led by at least two experienced and senior lawyers. In principle, they are top tier lawyers in their field. You could see the lists of our lawyers here.
WHAT MEDIA TALKING ABOUT ASL LAW – A RECOMMENDED VIETNAM LAW FIRM

?
– Legal500:
+ ASL Law is a leading full-service Vietnamese law firm made up of experienced and talented lawyers. Based in both Hanoi and Ho Chi Minh City, the firm's main purpose is to provide the most practical, efficient and lawful advice to its domestic and international clients.
+ Pham Duy Khuong is a well-known and a star lawyer in Vietnam. He is very patient to keep explaining to our clients' inquiries. His advice to our clients is clear, well-organised, thorough.'
+ We are impressed by lawyer Pham Duy Khuong, managing director of ASL LAW. He is an outstanding lawyer who is famous for his high determination in handling tough cases for clients. He always tries to give a specific solution for clients (not the general advice) so that clients know what is their best option in the current situation.'
– Vietnam Investment Review: ASL Law Legal superconductor for businesses
"ASL LAW's success proves that there are more than a few Vietnamese law firms that are strong enough to cover complicated multinational legal cases. This also harangues the end of the times when Vietnamese law firms were sidekicks to more established international counterparts due to foreign language limitation, lack of standard legal drafting skills, lack of knowledge about international legal systems, or limited connectivity."
– ASIA LAW Network: Lawyer Feature: Pham Duy Khuong of ASL LAW, Vietnam Law Firm.
"Pham Duy Khuong is the Managing Partner of ASL Law, a Vietnam law firm that has expertise in regional business transactions. He has been recognised as one of the top lawyers in Vietnam, and has also been awarded with fellowships and scholarships by the Australian, Japanese, and US governments."