Vietnam Investment Review: Lawyer Pham Duy Khuong, managing director of ASL Law, has just been honored by Asia Law Business Journal with a position among the top 100 lawyers in Vietnam, based on his extensive experience and capability to promote his clients' best interests.
Honoring individuals who have led Vietnam to recover from the pandemic, the Asia Business Law Journal has published the list of the top 100 practicing lawyers in Vietnam.
Nearly all of the lawyers appearing on the list are working in Hanoi and Ho Chi Minh City, the two largest financial centers in the country.
This list is based on extensive research and nominations from internal and external advisors, as well as Vietnam-focused partners at international law firms based outside the jurisdiction.
Among the honored lawyers is Pham Duy Khuong, founder and managing director of ASL Law.
With over 16 years of experience in mergers and acquisitions, intellectual property, franchising, energy and projects, anti-dumping and countervailing, corporate and commercial disputes, and arbitration commerce, Khuong is very proud to be recognized.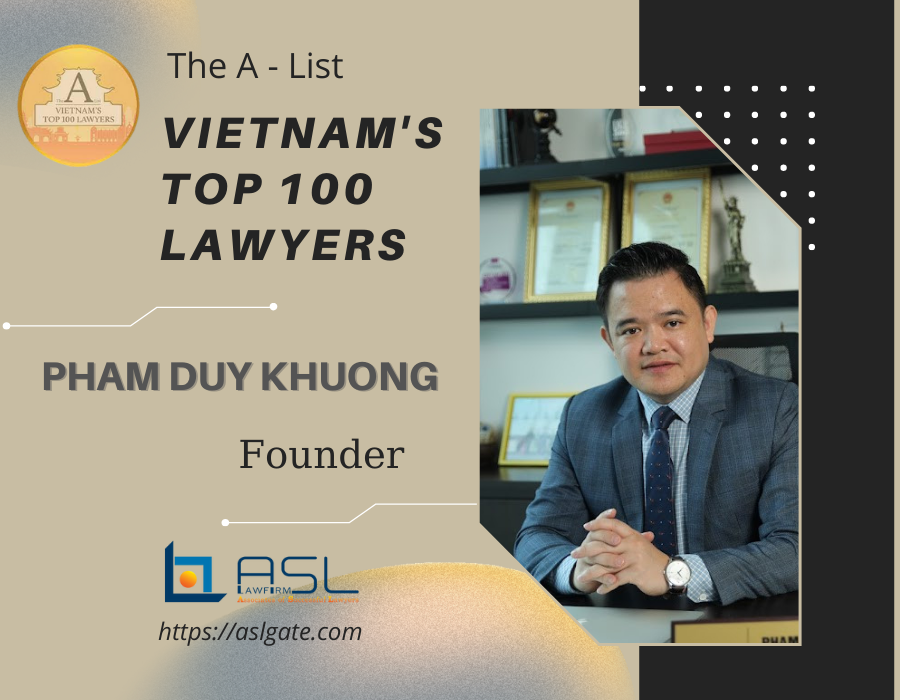 Besides being a consulting lawyer, Khuong also leads ASL Law – Vietnam's leading intellectual property law firm specializing in providing cross-border legal services with dedication and enthusiasm.
With extensive professional experience, Khuong and ASL Law have always received the trust of clients with positive feedback from both domestic and foreign ones.
Reviews submitted by clients to the Asia Law Business Journal indicate that they are not only looking for attorneys with extensive experience but also those capable of providing comprehensive analysis and strategy to promote their clients' business and protect their best interests.
From these recommendations, the Asia Law Business Journal was able to compile a list of excellent Vietnamese lawyers that make up this elite group.
Last year, Khuong was also among Vietnam's 100 top lawyers as announced by Asia Business Law Journal.
In addition, he also led ASL Law to be ranked second among the top local law firms in Vietnam, voted by The Legal 500.
The World Trademark Review 1000, a website and magazine about international trademark law, also praised Khuong for his trademark expertise.
ASL LAW is the top-tier Vietnam law firm for Intellectual Property Services. If you need any advice, please contact us for further information or collaboration.