Consecutive court hearings related to copyright dispute between investors and creators in Vietnam during the last time have shown serious concern about awareness of intellectual property from both sides. The article shall analyze the current situation of Vietnam intellectual property as well as notable aspects to investors and creator when co-operating in the fields of literary and artistic works.
Positive But Challenging
After thirteen years from the effective date of Law on Intellectual Property (IP Law), Viet Nam has gradually built up an effective system of protection and enforcement of Intellectual Property Rights. By various means, community awareness of intellectual property rights has been improved significantly over the previous period. According to statistic of Business Software Alliance (BSA), the infringement rate of software copyright has decreased by 74% in 2018, 4% lower than in 2016.
Even the awareness of IP is increasing, the enforcement of intellectual property rights in digital environment is still under concern. Vietnam is lacking both human resource and technique to deal with the infringement. It is likely that present infringement is happening in a very well-prepared way. It means that the alleged infringer is equipped with knowledge of intellectual property and it shall not easy to find out their infringement.
Recognizing Role of intellectual property to development of economic system
Major economies of the world today are countries with the most developed science, technology and culture and they have commonly developed and implemented measures to protect and enforce intellectual property rights effectively. Intellectual property is considered as a proper way of promoting the economy in a healthy, fair and sustainable manner.
Recognizing this, in order to fulfil its commitments in the WTO accession process, Vietnam has made continuous efforts to increase effectiveness of its protection and enforcement system of Intellectual Property Rights. During the past four years, Vietnam has actively participated in the negotiation and signing of the most important multilateral international treaties on intellectual property, including the European Union – Vietnam Free Trade Agreement (EVFTA), Comprehensive and Progressive Agreement for Trans-Pacific Partnership (CPTPP).
By engaging in the two afore-mentioned agreements, Viet Nam has demonstrated its willingness to integrate broadly with developed countries around the world in the protection and enforcement of intellectual property rights. The necessary condition is compatibility of national legislation with the provisions of the mentioned agreements.
New Regulations On Copyright: Strengthening Copyright Enforcement In Vietnam
Regarding copyright enforcement in Vietnam, especially in the field of literature and art, the ratio of copyright infringement has decreased significantly in recent years. This is the result of the improvement of the legal system on copyright enforcement which include new Decree No. 22/2018/ND-CP on detailing and guiding some measures for implementation of Law on Intellectual Property 2005 and Law on amendment and supplementation of some articles of Law on Intellectual Property 2005 (IP Law) related to the copyright and related rights on February 23, 2018. This decree came into effect from April 10, 2018 and replaced the decree No. 100/2006/ND-CP detailing and guiding the implementation of a number articles of the civil code and the IP Law regarding the copyright and related rights and Decree No. 85/2011/ND-CP amending and supplementing some articles of Decree No. 100/2006/ND-CP.
In particularly, according to Penal Code 2015 which has been amended and supplemented in 2017 on the criminal of infringing upon copyright and related rights, copyright infringement could be strongly handled under criminal cases. In addition, this shall be the first time entity who cause the copyright infringement shall be criminal responsibility. By this time, we have priority to use the administrative measure to handle copyright infringement.
Actively Using Court As A Measure To Handle Copyright Dispute
One of the notable changes in copyright enforcement in Vietnam in the last 2 years is that the owner/author of the protected work has used the court as an important measure for resolving disputes arising with other parties. The two most prominent cases are Tuan Chau Ha Noi Joint Stock Company sued DS Media Joint Stock Company regarding copyright for the "The quintessence of Tonkin"; and the artist Le Linh sued Phan Thi Company regarding the copyright of the comic "Than dong Dat Viet".
It is worth noting that in both cases, the authors of the disputed works have won encouraging victories after the first instance court. And although these cases will be under the appellate procedures, this still inspired and significantly impacted the psychological fear of going to court by the authors and owners of work in Vietnam. Therefore, this measure should be encouraged for other similar copyright dispute cases.
Increasing business co-operation between investors and creators
There is a good signal that creators now understand value of their creations while the investors also recognize such value. Accordingly, investors and creators are willing to work together in a business. Even both parties understand such value, they normally ignore or do not comprehensively know related legal regulations on copyrights. Then, they sign a contract including clauses which can be easily breached when necessary or cause potential conflict between the parties.
What investors and creator should know about copyright regulation when signing a contract?
-Copyright registration: not a mandatory procedure for establishing intellectual property rights.
With respect to copyright protection for literary and artistic works, Vietnam applies the general principle currently applied by most countries in the world that are members of the Berne Convention. "Copyright arises since the work was created and expressed in a certain material form", the copyright registration procedure is not a mandatory procedure for establishing rights under the provisions of current Vietnamese law. The certificate of copyright registration will only give the exempt from the obligation to prove to the owner of the certificate when a dispute arises.
– Copyright certificate can be cancelled
Copyright certificate is not unlimitedly valid, and it could be cancelled when there is an evidence proving that the works under such copyright certificate does not meet requirement of protection. For example, the register is not a right owner of such work.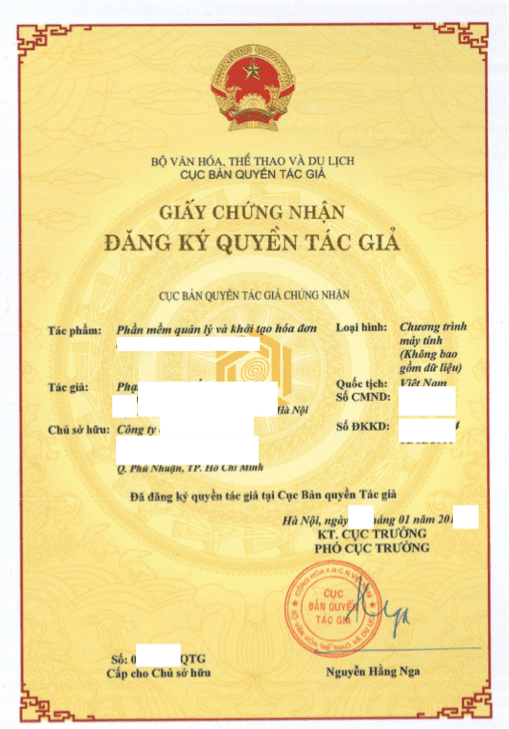 – Who are owners and authors of a creation?
According to Vietnam Law on Intellectual Property Law, in principle organizations and individuals who invest finance and other material and technical facilities in making creative works shall be the rights owners (holding the property rights) while authors of such works shall hold the personal rights.
– Identifying scope of work
A work includes different rights which like a cake with various pies. Therefore, investors and creators should define what rights and terms shall be assigned in this agreement.
– Understanding each party's rights and duties
It can be concluded from the above-mentioned cases, both parties have not really understood each other's rights and obligations before signing a creative agreement for the work that leads to disputes arising during and after the process of agreement performance. In addition, the agreement between the parties does not have strict and clear regulations to limit these disputes. This stems from the habit of not using the copyright/intellectual property lawyers in the negotiation, drafting and implementation of the author's contract.
Following the economic development, copyright disputes in Vietnam shall keep increasing in future. To avoid this dispute, the investors and creators should equip themselves comprehensive knowledge on their rights and duties in a business co-operation related to copyright. Any business relationship should be initiated by a strict agreement with specific regulations on copyright. The more a strict agreement is, the less disputes arise.
*** Other articles***
You could read the regulation to trademark in Vietnam, Patent in Vietnam, Industrial design in Vietnam here.