Firms from the Republic of Korea (RoK) were expecting to increase investments in information technology, biotechnology, food processing and part-supplying industry in Vietnam, attendees were told at a conference on Monday in Hanoi.
The Vietnam Trade Promotion Agency under the Ministry of Industry and Trade in collaboration with the Korea Federation of Small and Medium Businesses organised the trade and investment promotion conference themed: "Opportunity for Business Development" which attracted more than 150 firms from the two countries.
Experts said at the conference that Korean firms were showing significant interests in investing in IT, biotechnology, food processing and part-supplying industry in Vietnam, together with recreation and culture sectors.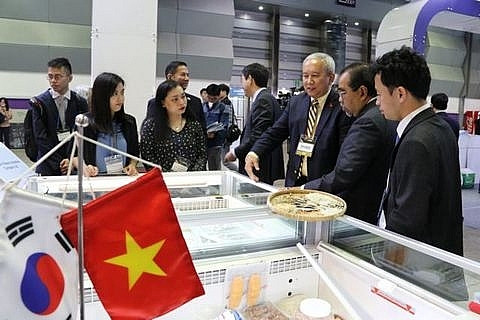 According to Ju Young Seob, RoK's former Minister of Small and Medium Sized Enterprises and Startups, the free trade agreement between RoK and Vietnam which came into force on December 20, 2015 created impetus to leverage the bilateral trade to US$100 billion by 2020.
However, companies from the two countries needed to enhance co-operation and expand trade and investment to third countries so as to reach that goal, he said.
"We believe with the determination of the two Governments and the dynamism of businesses, the economic cooperation between Rok and Vietnam will see breakthroughs in the future," he stressed.
Speaking at the conference, Vu Ba Phu, Director of the Vietnam Trade Promotion Agency, said that more Korean firms were expected to expand investment in Vietnam, adding that the Vietnam Trade Promotion Agency committed to provide support for foreign investors in general and Korean investors in particular to invest in the country.
The two countries established diplomatic relations in 1992.
Over the past 27 years, RoK became the third largest trade partner of Vietnam, accounting for 20.4 per cent of Vietnam's trade value in 2018.
Regarding foreign direct investment (FDI), RoK was the biggest investor in Vietnam, Phu said, adding that as of February, Korean investors pledged to invest a sum worth $63.7 billion in Vietnam, making up for 18.5 per cent of the total registered FDI into Vietnam.
Phu also said that there were around 7,000 Korean firms operating in Vietnam, providing jobs for more than 700,000 workers and contributing around 30 per cent to Vietnam's export value.
The operation of Korean firms such as Samsung, LG, Doosan, Hyundai and Posco in Vietnam also helped promote the development of Vietnam's part-supplying industry, Phu said.