RedSun ITI has taken its chain of Truly Viet restaurants to Australia under the franchise model.
It has set up a joint venture with an Australian partner to open the first restaurant in Melbourne with a menu that features four popular traditional Vietnamese dishes, goi cuon (fresh spring roll), pho (noodle soup), banh mi (Vietnamese sandwiches), and bun cha (vermicelli with grilled pork and fresh herbs).
The company's deputy director, Le Vu Minh, said the dishes have been tweaked to suit local palates.
RedSun ITI has already negotiated with partners in Laos to open a chain of King BBQ restaurants there.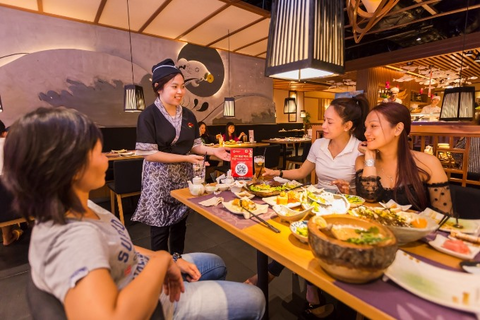 Founded in 2008, RedSun ITI now operates several restaurant brands — King BBQ, King BBQ Buffet, ThaiExpress, Seoul Garden, Khao Lao, Hotpot Story, Sushi Kei, and Capricciosa — with 140 restaurants nation-wide.
It launched its first franchise concept, King BBQ, in 2011, and began to offer franchising opportunities three years later.
King BBQ now has a strong presence in the market with 75 restaurants around the country, 15 per cent of which are franchised outlets.
On the back of this success, RedSun ITI introduced a second concept, Hotpot Story, last year. The company franchised Hotpot Story after opening 10 restaurants each in Ha Noi and Ho Chi Minh City.
In the near future it plans to focus on its Lao and Japanese restaurant chains Khao Lao and Sushi Kei.
With its franchise model doing very well, the company now wants to take its restaurants around the world, and the first is the Truly Viet brand in Australia.
Minh revealed that the target is to have a total of 450 restaurants by 2021, 40 per cent of them franchises in Viet Nam and abroad.
But RedSun is not the first Vietnamese company to franchise in the international market: Wrap & Roll's parent company Chao Do successfully franchised to a Singaporean company, MSJ Gourmet Group, which now runs four Wrap & Roll restaurants in the island-nation.
The company also plans to open eight restaurants in China's Shanghai in the next two years after opening two there last year.
Lawyer Pham Duy Khuong, founder of Vietnam Business Law Firm ASL Law – , who has studied Franchise in Vietnam, says until the end of the 1990s it was an unknown concept to most people in Viet Nam.
At that time there were no opportunities for Vietnamese consumers to lay their hands on or even see products and services made by well-known global brands.
KFC, McDonald's, Starbucks and Lotteria were not yet familiar names.
But all this changed rapidly and now these are commonplace names in the country.
People are also able to buy the latest Nike or Adidas products at stores in Viet Nam.
After 40 years of doi moi (Renewal) and more than 19 years since its entry into the World Trade Organization (WTO), Viet Nam has emerged as one of the most attractive countries for investors and franchises, with its population of over 90 million, 65 per cent of whom are aged under 35, and a very dynamic consumer class with a strong preference for foreign brands.
The Ministry of Industry and Trade confirms this saying more than 160 franchises have come to Viet Nam so far.
But the movement in the reverse direction has been very modest.
According to the ministry, the Vietnamese brands that are now franchised abroad are Pho 24, Cafe Boddy Brewers, T&T, Coffee Bean & Tea Leaf , and Iced Blended besides the aforementioned Truly Viet and Wrap & Roll.
Analysts say Vietnamese companies, particularly successful ones in the food and healthcare sectors, have great potential to do business abroad using the franchise model.
But they need some essential qualities to succeed, the most important of which is determination, they point out.
Having deep understanding of the target markets and locals' culinary traditions and tastes is also a must, they say.
Then, they need to know how to localise international concepts to fit local requirements and have a good understanding of local rivals, they add.
The Government needs to fully acknowledge the benefits that franchising of Vietnamese brands abroad can bring to the country and support these efforts.
Several companies have expressed keen interest in building a new terminal at Tan Son Nhat International Airport after the Government decided to expand it southwards to increase its passenger handling capacity.
Recently it has chosen an expansion plan drawn up by France's ADPi Engineering.
The French airport architecture and engineering company suggested building an extra terminal with a floor space of 200,000 square metres to the south.
The terminal, estimated to cost VND18 trillion (US$790 million), would be capable of handling 20 million passengers a year, allowing the airport to serve at least 50 million people a year after the expansion.
The Airports Corporation of Viet Nam (ACV) plans to invest VND9.8 trillion in the project and seek shareholders' approval at its annual general meeting next month.
Earlier Imex Pan Pacific Group (IPP) had submitted a proposal to the Ministry of Transport expressing interest in developing two terminals, T3 and T4, at the airport, according to Sai Gon Times newspaper.
According to a source of Vietnam Investment Review, at the beginning of March 2017, Atad Steel Structure Corporation, affiliated with Nam Viet A Construction Investment and Infrastructure Development Joint Stock Company, submitted a proposal to the Ministry of Transport to be selected as the/an investor of the T3 and T4 terminals.
Low-cost airline Vietjet has asked the ministry to allow it to fund the construction of T4 with a capacity of 10 million passengers a year and invest in developing its own facilities there, including for aircraft repair and maintenance facility and food processing and a cargo terminal.
According to Deputy Prime Minister Trinh Dinh Dung, the Government wants to prioritise the use of non-Government resources for the expansion work, especially from the private sector. — VNS
Source: Bizhub