Dear Sir,
I am a foreigner and my business partner is Vietnamese. We are planning to set up a new Vietnamese company at Ho Chi Minh City on car caring business. Initial shareholding would be 50:50. 
Can I have some information on that? (including the type of company, estimated timeframe on setting up the company, estimated cost, etc). Further, are there any different if I invest through a foreign investment vehicle/company? 
Thanks in advance. 
Regards,
Ste
ASL LAW'S ADVICE
Dear Ste,
Thank you for contacting ASL LAW, the full-service Vietnam Law Firm.
Please see our comments on your inquiry as follows:
1. Preliminary Comments
Based on WTO Commitment and Vietnam Law on Investment, car care services/ car caring business belongs to maintenance services that does not fail under WTO Commitment. Basically, licensing authority will grant permit for services provided in WTO Commitment only. If foreign investors try to pursue this business line, licensing authority may have to consult the relevant authorities of Central such as: Ministry of Planning and Investment and Ministry of Transportation. In actual practice, the chance to success is quite low.
Foreign investors can only provide maintenance services if they are car distributors or if they have their own car manufacture in Vietnam. Toyota, Audi, Mercedes, BMW, Porches… are clear examples. However, they can only provide the maintenance services for their own car only. It is not allow to provide the services for other brands.
If you wish to implement this project of setting up new company in Vietnam, alternative option is to set up company under Nominee Structure.
Nominee structure company means Company formed by a fiduciary organization to hold and administer securities or other assets as a custodian (registered owner) on behalf of an actual owner (beneficial owner) under a custodial agreement.
Accordingly, the foreign investor shall invest capital to set up a local company under the name of entrusted Vietnamese party. The Vietnamese party shall borrow capital from foreign investor through a loan agreement ( we call : Capital Financing Agreement)  and another agreement needs to sign to protect the right of investor, ( we call: "Indemnification Agreement"). Upon the local company is formed, its assets shall be pledged to beneficial owner via a pledged agreement and this agreement should be registered at National Registration Agency for Secured Transactions. This civil transaction is legal, fair for both parties and the rights of the true beneficiary (foreign investor) will also be ensured if any dispute happens.
We also would like to note that for a loan agreement, company needs to register with SBV (State bank of Vietnam) if the term loan is over 01 year. Vietnam Law currently does not officially recognize the Nominee Structure Company and therefore the Foreign Investor can be exposed to some potential risks. Therefore, you and your partners should cooperate well with each other to make sure that the operation of company is going well with its permit. If so, your legal right and interests regarding the local company shall be protected on all legal aspects.
The local company can register in Business license and legally perform all the above services on the field of fashion trading activities in Ho Chi Minh City, Vietnam.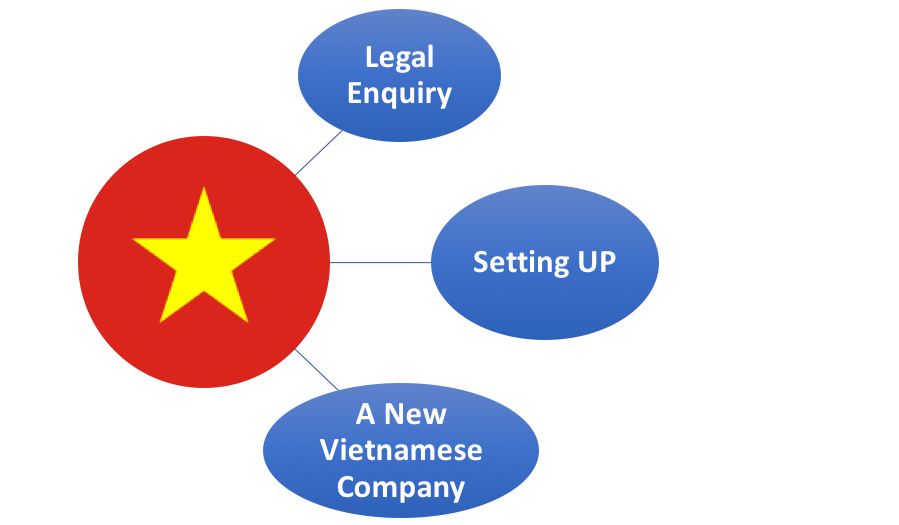 In summary, the roadmap for setting-up and running a local nominee company could be outlined as follows:
–  Preparing the Capital Financing Agreement and Indemnification Agreement;
–  Registering the Capital Financing Agreement at SBV if the term loan is over 01 year.
–  Registering the transaction at National Registration Agency for Secured Transactions;
–  Establishing the local nominee company;
–  Changing the local legal representative of the Company to foreign investor.
–  Obtaining the Work Permit for foreign investor.
–  Obtaining the Temporary Residence Card (TRC) for foreign investor.
2. Professional legal services:
For the above mentioned work, our professional fee shall be :
–       Drafting Capital Financing Agreement: USD
–       Drafting Indemnification Agreement:  USD
–       Setting up Nominee Company and registering foreign investor as Legal Rep: USD
–       Obtaining 2year work permit: USD/ 01 work permit ( if VN criminal record to be required, additional charge of USD will be added for obtaining Vietnam criminal Record)
–       Obtaining 2 Year TRC : USD/ 01 TRC ( Governmental fee: 1 USD) 
It is noted that the above fee is exclusive of 10% VAT, governmental fee and any disbursement including: translation fee (USD/ A4 page no more than 300 words), notarization, legalization fee if any and traveling and accommodation fee of lawyer if the work to be processed out of Hanoi or Ho Chi Minh City.
Should you have any further questions, please feel free to contact us,
Best regards,
ASL LAW – Vietnam Business Law Firm