ASL LAW Firm team of lawyers participated in GC Summit Vietnam 2023 event organized by Legal500 at Pullman Saigon Center.
GC Summit Vietnam
GC Summit Vietnam is a conference organized to discuss and analyze Vietnam's position in the international market and how companies as well as senior in-house lawyers deal with legal and business challenges that are troubles of domestic and international companies based in Vietnam.
The event included a series of discussion sessions covering a variety of cutting-edge and topical topics, prominent in Vietnam and around the world.
Topics discussed included analyzing, understanding and overcoming information privacy challenges, international dispute management, trademark and intellectual property protection, and adapting to the new M&A landscape, the development of legal technology, regional project finance, the growing importance of ESG and overcoming labor and employment problems.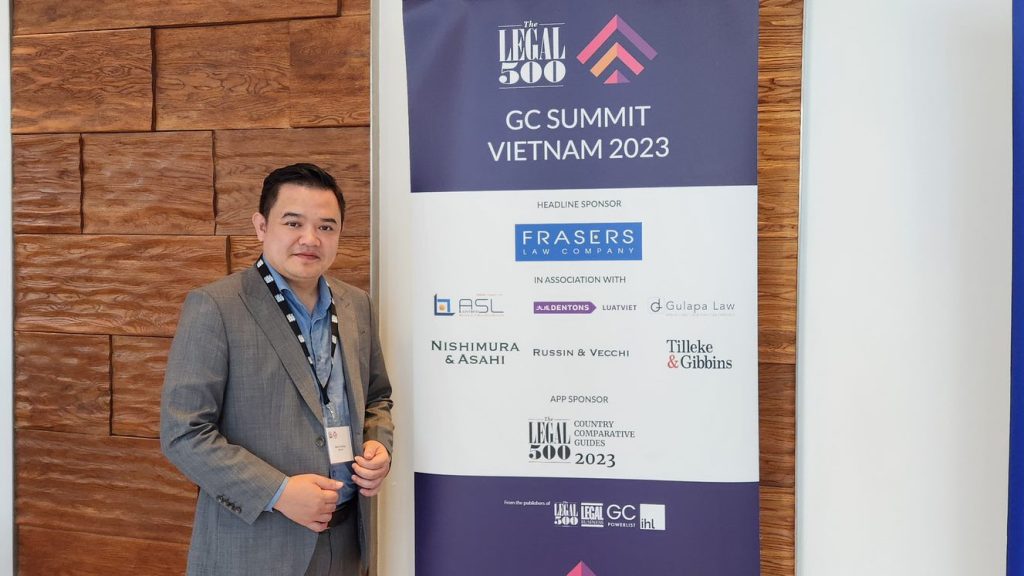 Based on the rich experience of speakers with outstanding achievements at the Conference, this event has provided practical and useful advice to all individuals and legal organizations in Vietnam who are aiming to achieve the next level professional development goal.
Attending the GC Summit Vietnam conference were prestigious law firms including Frasers Law Firm, ASL Law Firm & Gulapa & Aguila LLLC Law Firm, Tilleke & Gibbins, Russin & Vecchi, Dentons LuatViet, Nishimura & Asahi.
ASL LAW Firm participates in GC Summit Vietnam 2023
Attending GC Summit Vietnam 2023 as speakers and guests, ASL LAW Firm's team of lawyers, led by Lawyer Pham Duy Khuong – Managing Director of ASL LAW Firm and Partners, Associates and Lawyers of ASL LAW Firm participated in the presentation at the event, contributed and received a lot of knowledge and value in this workshop.
The presentation session of ASL LAW Firm's Senior Partner at the event took place from 15:45 to 16:05 with the topic: "Intellectual property considerations and issues on M&A in Vietnam"
The organizers' description of the ASL LAW Firm demonstration was: "Intellectual property issues are almost certainly a present issue in any M&A transaction, regardless of size and complexity. ASL LAW Firm's M&A and Intellectual Property specialist will share his expertise to tackle this challenging issue, providing a useful toolkit for attendees to help them succeed in their next transaction."
ASL LAW is the top-tier Vietnam law firm for legal advices. If you need any advice, please contact us for further information or collaboration.