Compared with the first outbreak in 2020, investors and real estate businesses will not be affected much by the new outbreak. Many businesses are ready with their basket of goods and business strategies in 2021.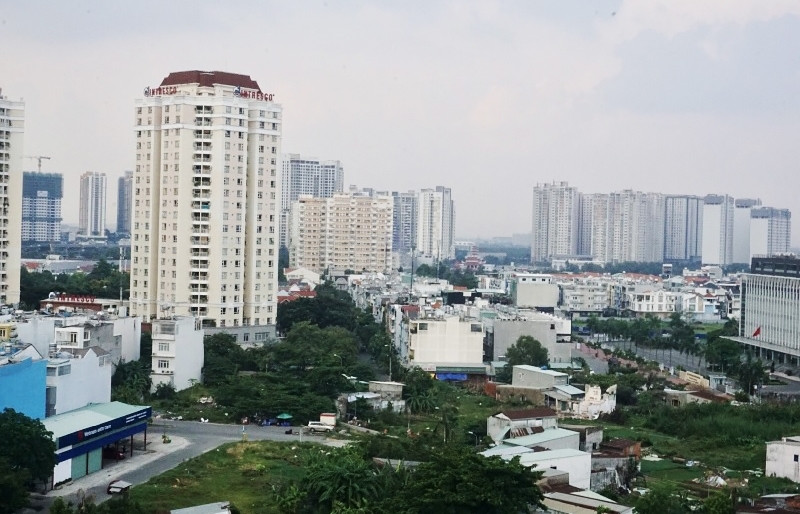 Real estate businesses confidently face difficulties
Experiencing an eventful 2020 year, although many businesses have to narrow their scale and cut their staff, the real estate market is still stable. This is a good basis and motivation for businesses to quickly recover and overcome many difficulties in 2021.
Looking at the Government's positive action in promoting economic development, especially after the VIII Congress with the new leadership of the new term in localities, Mr. Nguyen Van Dinh, Vice President, and General Secretary of Vietnam Association of Realtors (VARS) forecast that the real estate market in 2021 can rise more than 10% compared to 2020. Also according to Mr. Dinh, the low and stable bank interest rates will contribute to pushing strong demand for people to buy houses and invest in real estate.
The self-confidence of businesses is also evident through proactively adapting to the pandemic. As soon as the third epidemic broke out, a lot of businesses quickly changed their business plans, reduced their targets, and especially extended the payment schedule … to stimulate demand. Some businesses have prepared 2-3 business scenarios, when the pandemic is well controlled and when the economy is in crisis, to flexibly change before unexpected developments.
Previously, at VRES 2020, Mr. Nguyen Quoc Anh, Deputy General Director of Batdongsan.com.vn once acknowledged that the epidemic could not be completely controlled in 2021, so the change to adapt is a matter of life and death for businesses in the "new normal" state.
Sharing the same point of view, Mr. Tran Khanh Quang, General Director of Viet An Hoa Company, said that businesses need to take the initiative and react quickly in adjusting the output of goods, product categories, even have an appropriate pricing strategy to both maintain a pandemic recovery system and do business effectively.
Ensure enough quantity for the products
With confidence and initiative, at the beginning of 2021, many businesses have prepared their basket of goods and returned to the market. Right from the 5th day of the Lunar New Year, Central Green Land promptly performs their working plan. Mr. Tran Ngoc Thai – Director of the Investment and Development Division of the Central Green Land, said that in the first 6 months of 2021, the enterprise will start building 100 shophouse houses at the Regal Pavilon project; Marie One Complex high-end apartment twin towers. In March, the enterprise will deploy the project Ocean Caviar (Bao Ninh 1 residential area); In June, it is expected to complete the procedures and start the Smart City project in Dien Ban and Hoi An
Starting on the 6th of the Lunar New Year, Mr. Nguyen Phuoc Le Hung – Deputy Director of Trung Nam Joint Stock Company (Trungnam Land) said that the business has many plans to catch the recovery wave of the real estate market, especially with the Golden Hills project. According to Mr. Hung, real estate is still chosen by many investors as a channel to invest capital because the profits are much more than savings and more stable than gold or stocks.
Van Phuc Real Estate Group also officially gets to work from the 6th of Tet. It is known that in 2021, this enterprise spends a budget of 3,500 billion VND to invest in 12 categories divided into 3 main groups: entertainment, commercial services, and riverside ecological housing at the Project Zone in Van Phuc (HCMC).
In addition, a lot of other businesses are also boldly preparing to bring new projects to the market. Nam Long, for example, is accumulating a land fund to thrive in the East of the city. Ho Chi Minh City in 2021. Previously, this group had successfully accomplished 2 M&A transactions with a total area of ​​more than 100 hectares, the value of each project is more than 2,000 billion VND.
Novaland Group also announced to strongly deploy a series of resort real estate projects in the Mekong Delta, Ba Ria – Vung Tau, and Binh Thuan in 2021. This business will also continue to deploy existing projects such as Nova Phan Thiet, Nova Ho Tram, Aqua City Bien Hoa.
In 2021, Hung Thinh Land plans to deploy 5 projects with about 10,000 apartments in Hanoi and continue to offer more than 3,000 housing products in Dong Nai, Vung Tau, Binh Duong, and Nha Trang. Thang Loi Group has a plan to launch The Sol City Long An project and develop 4 new projects, providing 3,000-4,000 products to the market.
ASL LAW is the top tier Real Estate law firm in Vietnam for. If you need any advice, please contact us for further information or collaboration.