CLIENT'S INQUIRY

Dear ASL LAW,

I have known reputation of your firm in terms of Vietnam Labor Law and I am seeking some legal assistance and advice regarding a labour dispute with my company in Hanoi.

I have a full-time definite contract with my company, as well as having a valid work permit.

They decided to terminate my contract due to the unfortunate circumstances of the Covid-19 crisis. They are now also refusing to pay my salary for February and March, despite the contract containing no clause relating to Force Majeure or pandemics. Therefore I am of the believe that they are in breach of contract as well as the Vietnamese Labour Code.

Best regards,

R.
---
ASL LAW'S ADVICE
Dear R,
Thanks for your letter related to labour dispute between you and the English center due to COVID-19 (NCOV). We have reviewed your inquiry and would like to advise as follows:
According to the Notice, you will no longer be working for the center on March 27th, 2020. Therefore, any complaint/ claim for unilateral termination needs to be submitted after this date.
According to Article 38 of Vietnam Labour Law, Employer can have the right to unilaterally terminate the labor contract but they need to prove, employee fails under the circumstances as mentioned in section 1 or Article. 38. In this case, the employer notices that they would terminate by giving 30 days notice, that is totally wrong under this article. Please see below:
Article 38. The right of employers to unilaterally terminate labour contracts
An employer may unilaterally terminate a labor contract in the following cases:
a/ The employee often fails to perform his/her job stated in the labor contract;
b/ The employee is sick or has an accident and remains unable to work after having received treatment for 12 consecutive months, in case he/she works under an indefinite-term labor contract, or for 6 consecutive months, in case he/she works under a definite-term labor contract, or more than half the term of the labor contract, in case he/she works under a labor contract for a seasonal job or a specific job of under 12 months.
When the employee's health has recovered, he/she must be considered for continued entry into the labor contract;
c/ If, as a result of natural disaster, fire or another force majeure event as prescribed by law, the employer, though having applied every remedial measure, has to scale down production and cut jobs;
d/ The employee is absent from the workplace after the time limit specified in Article 33 of this Code.
When unilaterally terminating a labor contract, the employer shall notify the employee in advance:
a/ At least 45 days, for indefinite-term labor contracts;
b/ At least 30 days, for definite-term labor contracts;
c/ At least 3 working days, for seasonal or work-specific labor contracts of under 12 months as stipulated at Point b, Clause 1 of this Article.
Please be noted that the Court needs will judge based on the original / certified true copy of documents, please keep and preserve carefully the proof you have in hand. We will need:
– Labor contract
– Termination Notice ( please try to get original document/ official document with company stamp if possible, otherwise it is more complicated to provide court the electronic proof) )
– Work permit
– Salary Bank slips
Work permit in Vietnam
Labor Contract reveals that your commencing date was June 16th, 2019 while Work permit allowed you to work on November 25th, 2019. This may cause the issue when debating at Court as you had no Work permit dated June 16th to November 24th.2019. Please let us know if you have another work permit during that time or any other reasons why the work permit was issued so late.
Please wait for March 27th passes then update us the situation, please be noted that you should not sign any Termination Agreement prepared by Employer then later on you can prove Employer unilaterally terminate labor contract.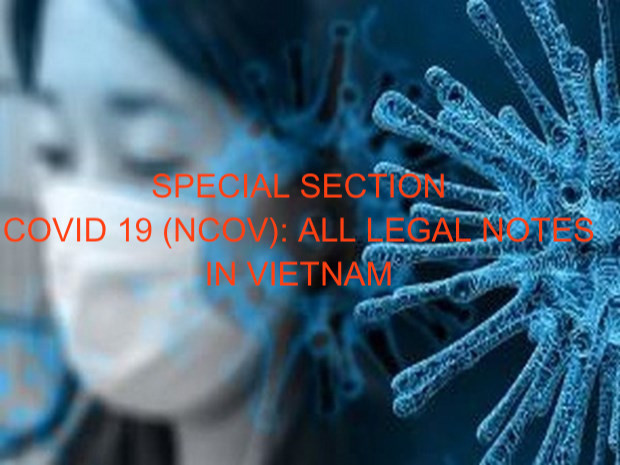 5. Other notes: is it possible to apply force majeure events to exemption from contractual obligations?
According to Clause 1, Article 156 of the Civil Code 2015: "A force majeure event is an event that happens objectively and unpredictably and cannot be overcome even though all necessary measures and capabilities are allowed."
Accordingly, the force majeure event must meet three conditions:
+ Objective (1):
This event can be a natural event such as natural disasters (floods, droughts, tsunamis), good war or human-caused .etc.
+ Unpredictable (2):
These are events which occur completely independently without the will of the parties and the parties do not think they can happen at all.
+ Impossible to perform (3):
The consequences of that event cannot be overcome despite taking all necessary measures and allowances.
Therefore, it is necessary to analyze whether the Covid 19 (NCOV) epidemic has all three conditions mentioned above to be considered a force majeure event.
In the current context of the Covid 19 (NCOV) epidemic, the authorities issued orders not to allow activities and quarantine including activities of circulating goods, people and services among certain areas affected or at risk of being affected by the epedimic is considered to meet the requirements of Objective (1) and Unpredictable (2) because this is the decision of the state management agency. From there it is likely to lead to the third condition Impossible to perform (3).
In the circumstance of Covid 19 (NCOV), conditions (1) and (2) are relatively clear and not controversial. However, the condition Impossible to perform (3) will be the main legal dispute because the parties have to prove that the situation cannot be overcome despite taking all necessary measures and their ability.
Where Covid 19 (NCOV) is considered a force majeure event, the violating party shall not be liable.
We will be legal advisor for you in this case and go together with you if engaged. Please keep us updated on this case.
Best regards,
ASL LAW – Vietnam Business Law Firm