Asia Business Law Journal has just announced the A-list Vietnam's Top 100 Lawyers. Among the honored lawyers, Lawyer Pham Duy Khuong – Founder of ASL Law, is proud to be a representative of ASL Law in this ranking.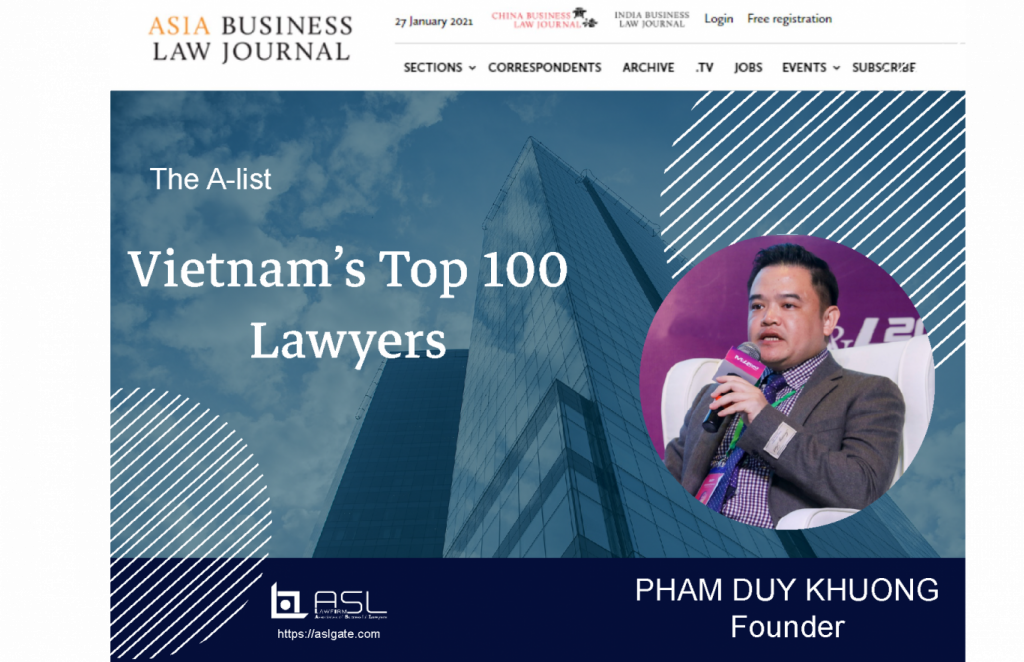 "Vietnam's A List 100 Top Lawyers" was voted and announced by the Asia Business Law Journal. This award is the recognition and evaluation from clients as well as the lawyer community about their professionalism, reputation and expertise.
With more than 16 years of experience in M&A, IP and franchise, energy & projects, anti-dumping and countervailing, corporate & commercial litigation and commerce arbitration; Lawyer Pham Duy Khuong is very proud to be recognized through this nomination.
In addition to being a consultant, Mr. Pham Duy Khuong also leads ASL Law – Vietnam's leading IP company specializing in providing cross-border legal services with dedication and enthusiasm. Lawyer Pham Duy Khuong and ASL Law always receive positive feedback from both domestic and foreign clients:
"Lawyer Pham Duy Khuong is a well-known lawyer in Vietnam. He is very patient in responding to customer inquiries. His advice was very clear, coherent and thorough ".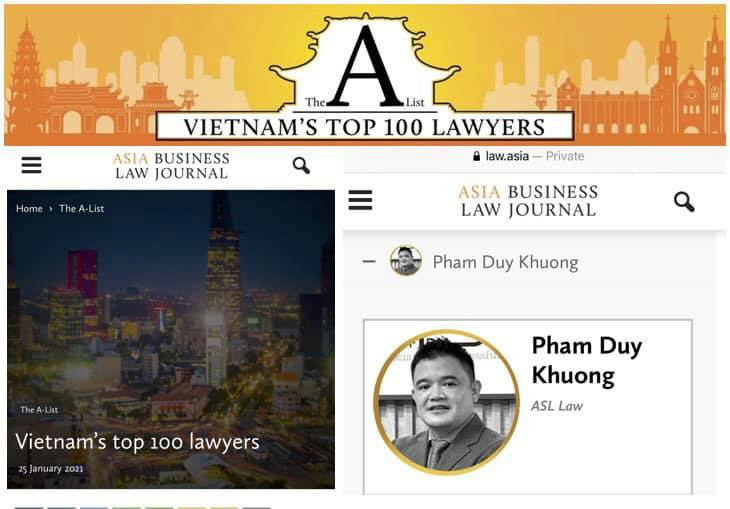 "We are very impressed with the lawyer Pham Duy Khuong, the executive director of ASL Law. He is an excellent lawyer, famous and dedicated in handling difficult cases for clients. He always tries to come up with specific solutions for customers (not general advice) to help them know which is the best option for him ".
Warmly congratulate Lawyer Pham Duy Khuong – Managing Director of ASL Law was honored as one of the top 100 lawyers in Vietnam by Asia Business Law Journal.
ASL LAW is the top tier ip firm in Vietnam. If you need any inquiry, please contact us.