(ASL LAW's interview to Vietnam Investment Review). Converging reputable lawyers and legal experts working in different fields of law in Vietnam and internationally, ASL LAW not only provides a variety of legal services but is also considered a sheet anchor by Vietnamese businesses with trade relations in 22 countries around the world.
With a team of prestigious lawyers from Vietnam and other countries, ASL LAW is the brainchild of lawyer Pham Duy Khuong, founded after more than 15 years as a fruit of his unceasing dedication to the legal profession.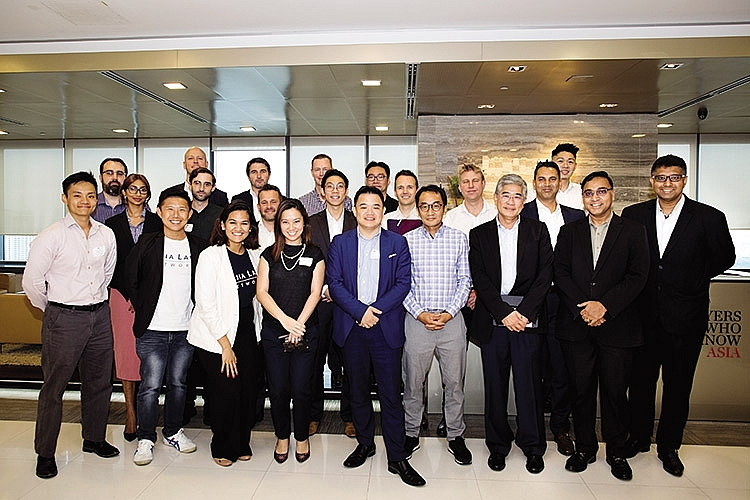 Khuong is one of Vietnam's star lawyers, especially in the field of commercial disputes, franchising, and intellectual property. Multiple times, he has been named "Recommended Lawyer in Vietnam" by Asia Law and was on Legal500 for his expertise in advising foreign and local clients in the field of litigation and intellectual property.
Not only providing legal services to domestic businesses, Khuong's consulting scope also extends to many Asian, European, and American countries which are home to long-standing partners of ASL LAW. As a legal representative for many foreign businesses in Vietnam, Khuong has assisted in successfully resolving trade-related disputes and other lawsuits for foreign companies. The position of this lawyer was strengthened with his active participation in legal training for businesses and organisations, and participation in the review of Vietnam's legal framework under the Comprehensive and Progressive Trans-Pacific Partnership (CPTPP) and the EU-Vietnam Free Trade Agreement (EVFTA) at the invitation of the Vietnam Chamber of Commerce and Industry (VCCI).
With the personal reputation and rich experience accumulated during his career, as well as the advantage of being trained in developed countries – he received practical legal training under Australian government scholarships, the YSEALI PFF scholarship in the United States, and the Southeast Asia Youth Leadership Training Program in Japan under the IATSS scholarship – the "captain" Khuong has quickly set sail with ASL LAW and gradually built up a name among hundreds of Vietnamese law firms. Up to now, more than 672 domestic and foreign enterprises have enlisted ASL LAW's services.
As shared by Khuong, what makes ASL LAW stand out is the 1-2-2 principle: A client request will receive independent advice from two senior lawyers of ASL LAW, including connecting the client with foreign lawyers when they need legal advice from outside of Vietnam or when contract consultancy requires a legal assessment based on the Vietnamese and international legal systems. As a result, the client will receive comprehensive consultancy covering all bases, while saving time and cost. "ASL LAW also offers appropriate solutions based on the requirements of investors and businesses who are or will be doing business in Vietnam, and Vietnamese businesses investing abroad. Wherever Vietnamese businesses go, ASL LAW will be there to provide legal support," said Khuong.
Setting sights on Southeast Asia
The reasons why ASL LAW can guarantee such a thing is its team of experienced lawyers from Vietnam and many countries where Vietnamese businesses are active, such as Australia, Malaysia, Singapore, China, Cambodia, Laos, Myanmar, Japan, South Korea, the US, and Canada. They are all experienced lawyers in the fields affecting the operation of most businesses, such as anti-dumping, mergers and acquisitions, real estate, finance & banking, foreign investment, arbitration, and intellectual property. Explaining this, Khuong said that many foreign businesses who come to Vietnam as well as Vietnamese enterprises investing and doing business abroad are often confused about on-site legal issues. This is especially true for startups or those without their own legal department. ASL LAW's mission is to support these businesses to operate in accordance with the applicable laws, to avoid risks, and minimise damage.
As a member of the International Bar Association (IBA) as well as having relations with investors from many economic powers such as Singapore, Malaysia, China, Japan, South Korea, Australia, and the US, ASL LAW also brings quality investors to do business in Vietnam – and helps Vietnamese businesses expand abroad.
ASL LAW 's success proves that there are more than a few Vietnamese law firms that are strong enough to cover complicated multinational legal cases. This also harangues the end of the times when Vietnamese law firms were sidekicks to more established international counterparts due to foreign language limitation, lack of standard legal drafting skills, lack of knowledge about international legal systems, or limited connectivity.
Although ranking among the most prestigious law firms in Vietnam, "captain" Khuong has no intention of stepping off the accelerator, as ASL LAW will soon grow its presence Southeast Asia-wide, proving the maturity and adaptability of a Vietnamese law firm.
* Full article here: https://www.vir.com.vn/asl-law-legal-superconductor-for-businesses-72227.html.