The National Assembly adopted the Law on Residential Housing No. 65/2014/QH13 (LRH) on November 25, 2014, which was effective as of July 1, 2015. According to the new law, foreigners are allowed to buy project houses and condominiums in Vietnam. Below are the table of comparison between the current and new LRH as well as notable proposals that foreigners should be aware of.
1.              Foreigners are allowed to buy project houses and condominiums.
Resolution No. 19
New Regulations (from 1 July '15)
·      A foreigner, subject to certain criteria and working in Vietnam for at least one year.
 

·      Foreigners who are allowed to enter Vietnam.

 

·      Allowed to buy one (01) condo.

 

·      Unlimited condos.

 

·      Ownership term: 50 years, no extension.

·      Ownership term: 50 years, extendable subject to applicable laws.

·      Indefinite term for foreigners married to Vietnamese citizens.

 

·      No sub-lease.

·      Foreigners are allowed to lease, mortgage, contribute as capital, gift, bequest, exchange, etc., subject to certain limitations.
Caveats – For Residential Properties
Foreigners leasing out their houses must notify the competent state agencies and must pay taxes in accordance with the prevailing laws;
Foreign organizations can only use the houses for their own staffs' residential purpose and must not use their houses for other purposes (such as office, leasing out, etc…);
Foreigners and organizations must make payment of purchases or hire-purchases through a licensed credit institution in Vietnam;
Applicable for maximum 30% of the total condominiums in a single condominium building (or other cap provided by the Prime Minister in areas having a large number of condominium buildings); and
Maximum 250 villas, townhouses in an area having the population equivalent to an admin level of a ward.
For Non-Residential Properties
‒Foreign non-real estate companies in Vietnam are allowed to buy the non- residential premises for their own use (i.e., purchase parts of the premise (e.g., floor in an office building)); and to obtain the title certificate for such premises or partial premises.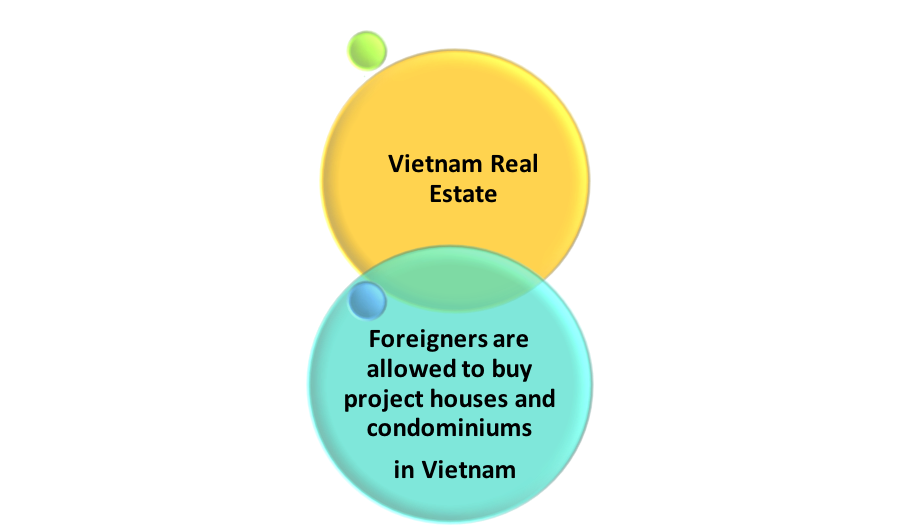 2.              Draft Decree on the implementation of new Law on Residential Housing
a)  Valid passport and visa:
Overseas Vietnamese bearing Vietnamese nationality must possess a valid Vietnamese passport; those holding a foreign passport must produce documents evidencing their Vietnamese nationality under the Nationality.
In the case of those with Vietnamese origin, they must possess a foreign passport together with written certification of their Vietnamese origin issued by competent Vietnamese.
For foreign individuals, passports must have entry and exit immigration.
b)  Separate "Red Books" for mini condos:
Individual houses built with two or more floors with designs on each floor, built in the closed style, with floor space from 30m2 upwards, and meet the conditions prescribed by law shall be issued certificates for each apartment in that house; and land use rights associated with this housing as common.
c)  Extension of ownership term:
Before the expiry of 03 months home ownership, foreign individuals can carry out the procedures for ownership extension of time to one, but not more than 50 years.
Also, before expiry, the owner can sell or donate the house as prescribed by law. The purchasing or receiving party will be allowed for indefinite term of residence if they are Vietnamese citizens, or are Vietnamese residing abroad. If not, the house ownership term will be only for the remaining term. When the term expires, house ownership and rights of land use shall be transferred back to the initial owners, then their heir or legal successor of the initial owners or individuals, or the organizations as prescribed by law.
d)  Which project is not allowed for foreign ownership?
The Ministry of Defense and the Ministry of Public Security have the responsibilities of specifying prohibited areas or areas restricting foreign citizens. And these two Ministries will provide written notice to the provincial People's Committee to direct Department of Construction to specify each investment project built commercial housing in the province to be sold to foreign individuals and organizations.
e)  The rule of 30% cap for Condos, and 10% cap for Villas/Townhouses
Foreign organization and individual ownership of units in an apartment building may not exceed 30% of total units in one apartment building. In the event of an area with geographical boundary equivalent to ward level with many apartment buildings for sale or lease purchase, then foreign organizations and individuals may own no more than 30% of the total units of each apartment building, and not more than 30% of the total units of all the apartment.
For housing projects which have separate houses for sale or lease purchase, the foreign organizations and individuals' ownership must not exceed 10% of the total number of separate houses for each project. In the event of an area with geographical boundary equivalent to ward level with several projects where the number of individual houses are more than 2,500 units, then the foreign organizations and individuals' ownership must not exceed 250.
f)  Authority's control over the capped amounts of foreign ownership:
The information on the list of residential projects allowed for foreign individuals and organizations to sell, lease and purchase as well as the number of houses owned by foreign individual and organization that have been granted certificates will be posted on the website of the Department of Department of Construction.
Best regards,
ASL LAW – Vietnam Business Law Firm