Multinational corporations in the electronics sector are making moves to increase investment in Vietnam, expand operations, towards making the factory in Ho Chi Minh City become the leading production base.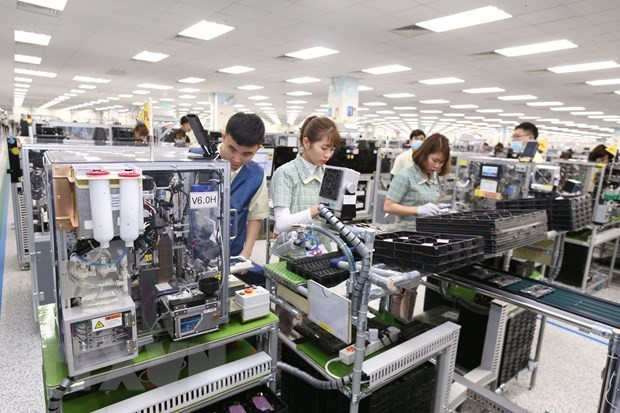 Intel, Samsung expand investment in large-scale electronics FDI projects
Mr. Vo Van Hoan, Vice Chairman of the People's Committee of Ho Chi Minh City, informed that as of this moment, there are 50 foreign direct investment (FDI) projects in HCMC with investment in the electronics industry with registered investment capital of more than 5.058 billion USD, the land-use area is more than 326 hectares. In which, 17 electronic projects with investment capital of 20 million USD or more are operating in industrial parks, export processing zones, and high-tech zones.
Notably, many leading brands in the world in the electronics field have investment projects in Ho Chi Minh City such as Intel, Samsung, First Solar, Furukawa Automotive Parts, Renesas …
Right at the beginning of the year, with the impact of the Covid-19 epidemic, both giants Intel and Samsung simultaneously moved to increase investment and transform their business type with a fairly clear message of commitment for long-term investment in Vietnam.
Specifically, Intel Products Vietnam Company increased its investment capital by 475 million USD, bringing the total registered investment capital up to more than 1.5 billion USD.
Mr. Alan Danner, CFO of Intel Vietnam said: up to now, Intel Vietnam has manufactured and exported over 2 billion products of microprocessor and semiconductor equipment. By the end of 2020, the total progressive export value of the Intel Vietnam factory will reach 50 billion USD and create nearly 7,000 jobs, including 2,700 Intel employees.
The new investment helps Intel increase production of 5G products, Intel Core processors with Intel Hybrid technology, and 10th generation Intel Core processors.
Also on this occasion, Samsung Electronics HCMC CE Complex (Korea) was agreed to adjust project information and transform the type of business, from a high-tech enterprise to an export processing enterprise.
Samsung's project in Ho Chi Minh City Hi-Tech Park was first licensed on September 25, 2014. The investment capital of the project to date is 2 billion USD. The project is built on an area of ​​more than 93 hectares, the production scale of 19 million products/year; Annual average turnover is over 4.2 billion USD, of which import value is over 2.5 billion USD, export value is over 3, 6 billion USD; pay more than 2,700 billion dongs to the budget …
According to the assessment, the transformation of Samsung business types not only facilitates when the majority of products are made for export but also provides practical support to businesses in the supply chain of Samsung. and especially businesses in the field of supporting industry to invest in projects in Ho Chi Minh City and surrounding areas.
First Solar speed up
Mr. Hua Quoc Hung, Head of the Management Board of industrial and export processing zones of Ho Chi Minh City, said that according to the Board's synthesis, in the export processing and industrial zones in the city, there are 45 FDI ​​projects in the area. electronics in operation, with a total investment of more than 1.7 billion USD.
"Only the US First Solar project in the Southeast Industrial Park has a registered investment capital of more than $ 1,066 billion", Mr. Hung said.
Mr. Chan See Chong, General Director of First Solar Vietnam Manufacturing Co., Ltd, said that the enterprise has invested in building 2 factories in Dong Nam Industrial Park, towards the making the factory in Vietnam a leading production base. First Solar Group currently has 3 main production facilities globally in the US, Malaysia and Vietnam.
According to the announcement of First Solar, the total investment capital for these two new factories is USD 830 million. The first plant produces Series 6 solar modules from the end of 2018.
"When both factories go into production, First Solar's total capacity will reach 2.4 GW/year," said Chan See Chong.
The company also adjusted capacity to double, with about 5.31 million modules/year, compared with the initial expected capacity of 2,655 million modules/year. Expectedly, products made are mainly exported to America and Europe.
According to the representative of First Solar, the production of solar cells with thin-film technology Series 6 with many differences and outstanding advantages will be a fair comparison with traditional technologies, including technology, polycrystalline silicon technology, which is now largely manufactured by Chinese enterprises, can supply more than two-thirds of solar panels to the global market.
"We hope that in the coming time, there will be many discussions with authorities and real estate investors, developing solar power projects, to learn about solar energy and meet the expectations of the market Vietnamese", said the representative of First Solar.
ASL LAW is the top-tier Vietnam law firm for doing business in Vietnam. If you need any advice, please contact us for further information or collaboration.