Dear ASL LAW, Vietnam Law Firm
To whom it may concern,
I'm Ra___ from E___ Recruit. We're planning to expand to Vietnam market and in need of incorporation service. Our business scope is marketing services. We are considering setting up a company in Vietnam for marketing services or establish either Branch or Subsidiary in Vietnam (LLC). We would like to know the pricing as well as set up time and requirements for both types. Looking forward to hearing from you.
Best regards,
Ra__
ASL LAW'S ADVICE
Thanks for contacting ASL LAW.
Under Vietnam Law on Investment, foreign investor may set up Branch or Foreign owned company depending on the business lines or project that they will carry out. In actual practice, the Branch is suitable for Banker or Insurance Company only. It is not popular to set up Branch for a marketing company that has parent company located in oversea. If foreign investor wishes to set up Branch, licensing authority will guide to set up foreign invested company depending on the lines of business.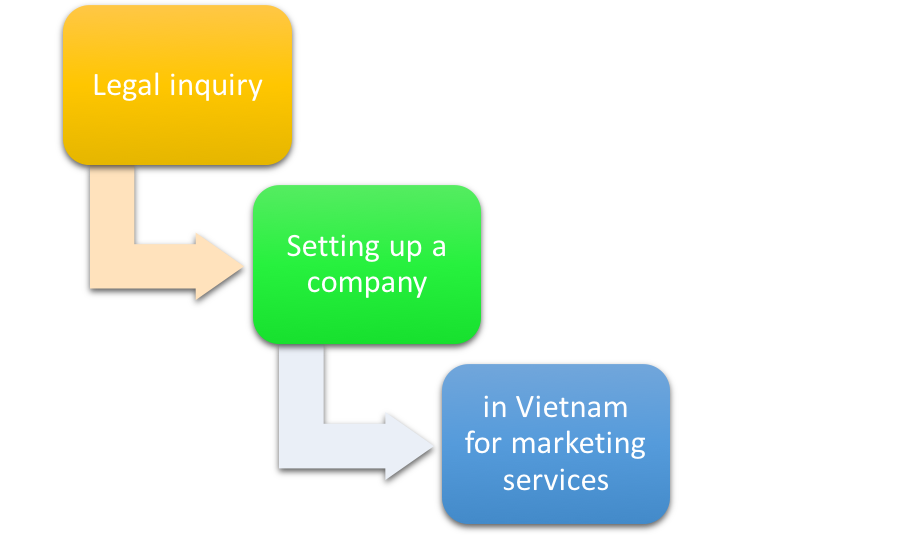 According to WTO Commitment, it is not allowed foreign investor to set up foreign wholly owned company operating marketing. It is required to joint venture with an existing local company that already registered marketing services in business license. In theory, foreign investor can hold up to 99,9% of the share in the joint venture. Foreign investor may choose:
Opt 1: Buying the share from local company that already operating marketing business
Opt 2: Setting up a joint venture with a local company that granted marketing lines.
It shall take 30~45 working days for either Opt 1 or Opt 2 when setting up Joint Venture Company ( JVC).
Our legal fee for setting up JVC shall be ___ USD and for drafting a Joint venture Agreement shall be___USD. It is noted that the fee is exclusive of 10% VAT.
If it is difficult for foreign investor to find an existing local company, you may think about a Nominee concept in which you can work with a local person in Vietnam so that he/she will act as Nominee to set up new company in Vietnam. It is noted that this Option is very much depended on the relationship between local person and foreign investor. Some conflict may happen then local person will not cooperate well or may terminate the agreement without any liability.
ASL LAW – Vietnam Business Law Firm