How much is Fee of forming company in Vietnam and What is procedure of company formation in Vietnam?
Procedure of company registration:
To open company in Vietnam for foreign-invested enterprise , there will be two steps involved in the procedures as follows:
Ø  Step 1: Applying for the Investment Registration Certificate ("IRC") at Department of Planning and Investment or Authority of industrial zones (The licensing authority will depend on the location of Company)
Ø  Step 2: Applying for the Enterprise Registration Certificate ("ERC") at Business Registration Office;
* Please be noted that: In case foreign-invested enterprise conduct conditional business sectors, A sublicense corresponding to such business lines must be required.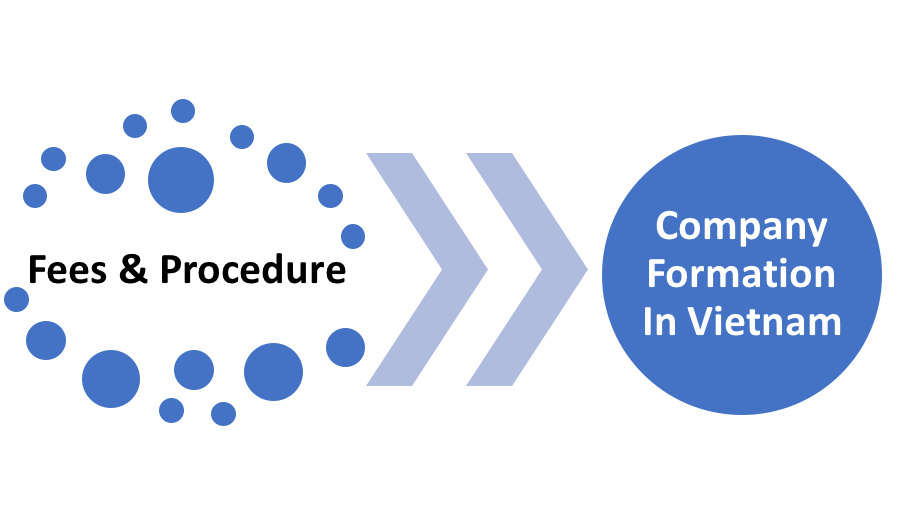 Capital requirements 
There are two terminologies with regard to capital issue: Investment capital and Charter capital of enterprise
Investment capital means cash and the other assets contributed to conduct investment activities. Investment capital includes capital contribution from investors and mobilized capital. Mobilized Capital can be deprived from various sources such as mobilizing from banks, investors themselves or from other organizations and individuals.
Foreign investors desiring to set up an enterprise in Vietnam must demonstrate their financial ability.
Capital contributed in cash can be verified by the bank account balance of investors. This balance must be greater than or at least equal to the committed amount of cash that foreign investor intend to contribute to the project. In addition, the financial ability can be also proved by the net profit of the latest annual financial statement if foreign investor is an enterprise. Capital contributed by machineries must be expressed in machinery purchase contracts and the minutes of asset liquidation in order to prove the ownership of the investors over the machineries
Charter capital means the total value of assets that are contributed or promised to be contributed by members/partners in order to operate business activities of enterprise. For some specific industries, Vietnames law stipulates the minimum level of charter capital required. For example, the charter capital for carrying out this business is 20 billion VND.
Expenses   
The expenses for company registration will depend on the business line and address of company that foreign investor intends to register in the business registration
We will offer different quotation for separate cases. Commonly, the charge for establishing a company located in industrial area will be more expensive than ones in industrial clusters or residential area. In addition, geographical distance is also one of the factors affecting the expense. For distant provinces, we will have to spend more travel costs so the expenses would be higher.
The expected business lines also make an impact on the expenses. If foreign investor intend to register business lines related to manufacturing, retailing goods or business line which has not already been committed at the WTO, the service charge will be higher than common.
Typically, we charge USD___for set up a foreign company in Vietnam. This charge can fluctuate depending on the expected business lines and location of the company.
With regard to the price of the aforementioned services which you've asked:
We usually charge USD__ for a common case as mentioned above.
After the establishment of company is completed, company owner will be required to conduct the declaration of excise tax. This service will be free of charge in case foreign investor purchase our digital signature. In addition, we also provide services with regard to declaration of personal income tax, corporate income tax and Insurance, etc if you're interested .
Local nominee director (If required)
– This service will be free of charge in case you only ask our firm to look for a local nominee director
– In case you want to hire our firm to appoint a certain person to become your director, the monthly charge will be USD 650
Bank account opening assistance
We charge USD ___for this service
Should you have any enquiry for the above, please do not hesitate to let us know.
Best regards,
ASL LAW – VIETNAM BUSINESS LAW FIRM